Spread financial intelligence
We have reported and warned about the PandaTS white-label broker Daxiron several times over the last few months. After each report, the Daxiron scam changed a bit. Most recently, the domain was changed, which we also brought to our readers' attention. Now the broker seems to have disappeared. Daxiron victims have sent us documents that prove that Daxiron cooperated with the German Solaris Bank to deceive customers about bonus programs and account insurance.
Key data
Scam narrative
The Daxiron scam is allegedly run by the offshore Synnfrey Sol Ltd, registered in the Commonwealth of Dominica in the Caribbean. Like most white-label brokers on the Israeli PandaTS platform, the scam is well done. We identified Pay Credits (www.pay-credits.com) as the facilitating payment processor in our initial review. Upon our reports, Pay Credits vanished. The website was taken offline, its operator, UK-registered VertexTech Ltd, was dissolved via compulsory strike-off in July 2021. The Hungarian citizen Ljudmila Mohacsek used to be the controlling person. Our review on 27 Feb 2022 found that victims can lose their money with credit and debit card deposits via the Shinepays payment gateway and PaynetEasy.
The Solaris Bank fake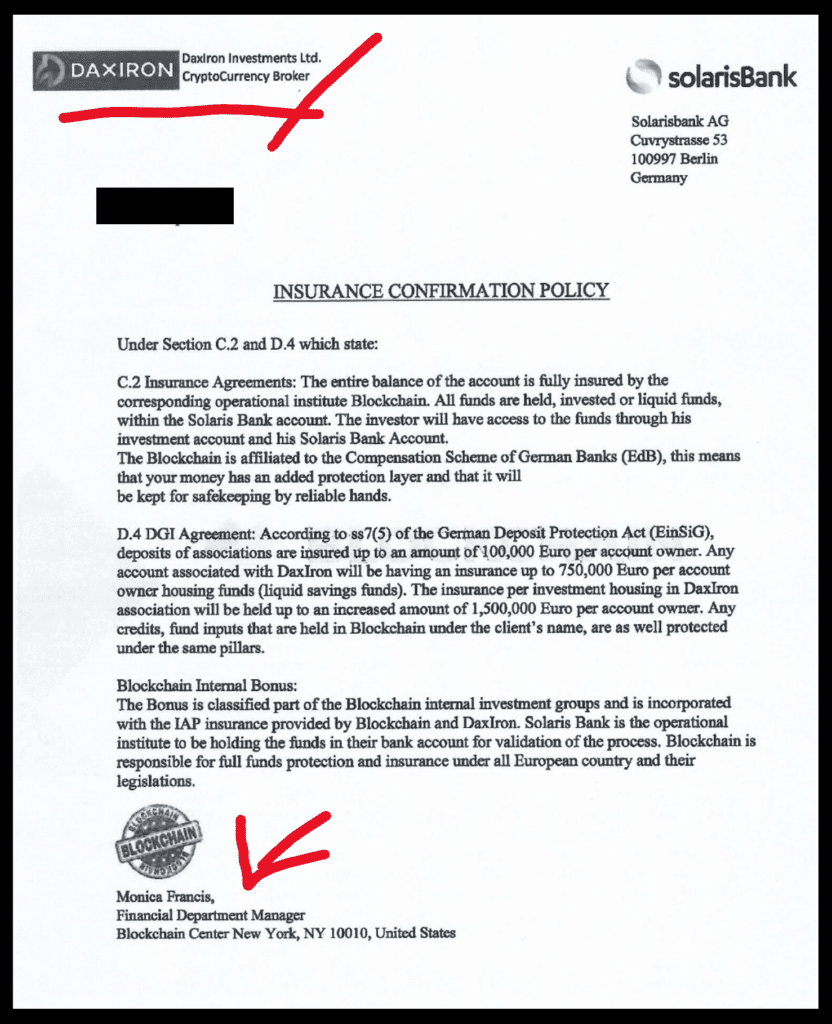 Daxiron sent a fake Insurance Confirmation Policy to its victims. This fake insurance policy also contained the logo and data of Solaris Bank (see picture left). The policy states that all funds transferred by the customer to the accounts of Solaris Bank would be insured up to an amount of €1,500,000. The deposits would be insured up to €100,000 through the German Deposit Protection Act in the first place. Beyond that, DaxIron would provide up to €1.5M insurance.
Solaris Bank would be the institution for DaxIron to manage customer funds. The policy also claims that the Blockchain Center New York would be involved. This organization does not exist. Finally, the policy also promised the victims a bonus of 35% on all deposits to Solaris Bank.
We already know Solaris Bank as a facilitator from other scams. The bank has positioned itself as a high-risk payment processor that also serves the dark side of the Internet with payment services.
Share information
If you have any information about Daxiron, PandaTS, or any other PandaTS scam clients, please share it with us via our whistleblower system, Whistle42.