Spread financial intelligence
Phoenix Payments Ltd d/b/a Paytah, registered in Malta and regulated by the MFSA, is currently at the center of regulatory and criminal investigations in several European jurisdictions. Paytah faces claims from scam victims who made deposits to various scams through the Maltese company. The European Fund Recovery Initiative (EFRI) represents the interests of victims in a rather obscure procedure before the Arbiter for Financial Services a/k/a Financial Ombudsman in Malta. PayTah submitted an affidavit from the current Onboarding Manager Alexandros (Alex) Giankellis, to confirm that compliance is working. A new Zoom meeting with the Financial Ombudsman is scheduled for 22 Feb 2022! Here is the update!
Key data
Case
Scam victims against Phoenix Payments Ltd d/b/a Paytah
Case No
Case ASF 086/2021 before the Financial Ombudsman
Defendant
Phoenix Payments Ltd d/b/a Paytah
Legal representative
Camilleri Preziosi for Defendant
Claimants
many scam victims that deposited money via Paytah
Allegation
Paytah intentionally accepted and facilitated
scam-operating merchants
Related individuals
Marco Lavanna, Paytah UBO
Alex Giankellis, Onboarding Manager Paytah
Franklin Cachia, Chief Compliance Officer (CCC) Paytah
Daniela Pesci, former CCO
Regulatory regime
& authorities
Malta
MFSA
Arbiter for Financial Services
The new affidavit
In his affidavit, onboarding manager Alexandros (Alex) Giankellis says that Paythah would have done the onboarding of the Estonian scam merchant Finligue Grupp OÜ correctly in April 2020.
Read the Paytah and Finligue Grupp report here.
At the onboarding, the client had a crypto license from the Estonian FIU. However, for regulated clients like Finligue Grupp, a simplified check can be performed according to Maltese law. However, Paytah conducted a full Customer Risk Assessment. Paytah would have terminated the merchant in August 2020 after learning that the customer had lost the FIU license.
The onboarding manager confirmed the scam victim's deposit to the Finligue Grupp via Paytah, which they qualified as a "run-of-the-mill" transaction.
Essentially, the affidavit confirms that the scam victim's deposits did occur via Paytah. It also affirms that Paytah would have terminated its business relationship with Finligue Grupp over concerns. However, the fact remains that Finligue Grupp was just one of many scam merchants from Estonia and other countries. In a criminal complaint, the former Paytah Chief Compliance Officer Daniela Pesci stated that the onboarding of scam merchants happened intentionally.
No compliance invented here
Paytah is beneficially owned and controlled by the Italian Marco Lavanna. The company's last chief compliance officer Daniela Pesci left because of its alleged massive involvement in money laundering with Estonian crypto-payment processors. The resigned CCO has also informed local authorities in Malta and Interpol about this. Please read this report here for more information. Court documents revealed that the Malta Financial Intelligence Analysis Unit (FIAU) had been provided with all evidence.
The long list of scam-faciliating Paytah clients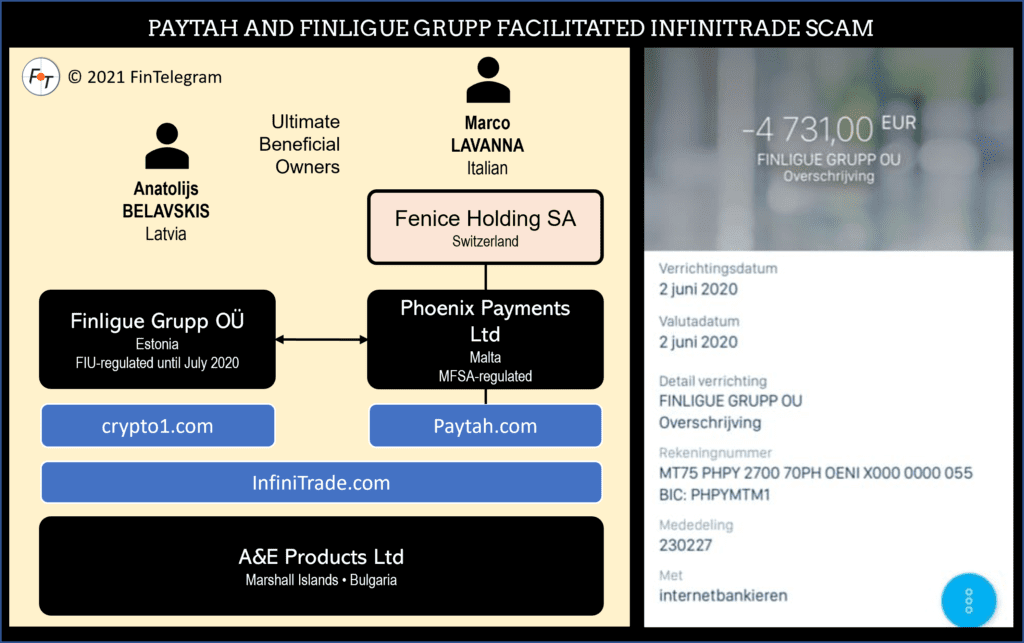 In many cases that we know of, the scam against clients took place in a cascade of companies. First, the operators of scams such as InfiniTrade (www.infinitrade.com) entered into a merchant agreement with a licensed Estonian company like Finligue Group. The Estonian crypto company, in turn, was registered as a merchant with Paytah and laundered scam victims' money through it. These were not single KYC/AML issues, this happened systematically with intention. Paytah was part of the scam system (see picture left).
Paytah does not work directly with scam operators but with illegal payment providers and crypto payment processors, which facilitate scam operators. Most of these scam-facilitating payment processors are Estonian entities. Some of them have (or had) an Estonian crypto license. These crypto companies accept scam operators as customers and have their bank account with Paytah, which systematically processed victims' deposits. Some of these fraudulently acting Paytah clients are:
The processing of funds stolen from scam clients is also known as money laundering, conducted by MFSA-supervised Paytah knowingly and intentionally as part of its business model.
The hearings
The Maltese Financial Ombudsman, Reno Borg, is a former politician associated with the Maltese Labour Party. The last set of hearings of Paytah victims before the Financial Ombudsman was held on 27 Sept 2021. EFRI represents 12 scam victims with damage of more than € 350,000- all deposited to scams via Paytah bank accounts. One of the scheduled hearings got canceled only last week as a victim, a 67-year-old Greek man who had lost around €135,000 to a scam via PayTah, died. Friends explained the deceased's horrible financial and personal mental situation after he fell victim to the LincolnFX broker scam. He deposited the funds to this scam via Paytah.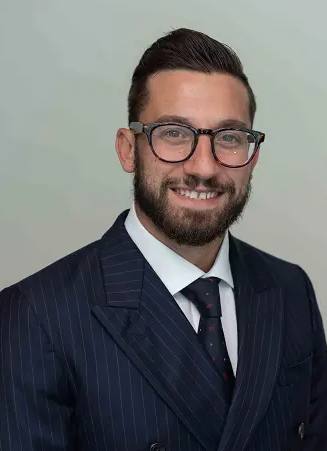 In another hearing, the Maltese Ombudsman declared himself not competent after the Paytah Chief Compliance Officer Franklin Cachia (pictured left) explained that the same case is pending in the United Kingdom. Thus, the UK omMFSA'sn would be competent and not the Maltese ombudsman.
Another hearing for another PayTah victim on that day also ended with the decision of the ombudsman that he would not be in charge of this case after the victim assumed PayTah might be part of a fraud scheme. The ombudsman told the victim MFSA'se needs to file the crime and money-laundering complaints with the criminal authorities.
Notorious scam-facilitator
In Germany, the law firm Resch reports about the involvement of Phoenix Payments Ltd a/k/a Paytah as a scam-facilitating payment processor in the 10CryptoMarket (report here) and the Prime-InvestFX (report here) scam. Victims deposited to the Paytah bank accounts of ABV Marketing Consulting Ltd and Business Credit s.r.o respectively. There are dozens of big broker scams such as Finexics, Infinitrade, RoyalsFX, CodeFX, or LincolnFX processed through Paytah and its affiliates.
Phoenix Payments is also involved with regulated brokers like ForexTB, PatronFX, Trade360, or 1Market as a payment processor. Does the legitimate question arise why regulated investment firms get involved with this notorious scam facilitator?
Nobody cares!
Phoenix Payments Ltd is an MFSA-licensed payment institution (see MFSA page). The Paytah offices are less than 500 meters away from the MFSA's headquarters, but this does not prevent the company from running its business in an evidently non-compliant way. Recent media articles revealed that MFSA is not shy to reach secret settlements with the chosen few. This has been described as blatant discrimination being carried out by the MFSA's executive committee consisting of Christopher Buttigieg, Michelle Mizzi Buontempo, Ivan Zammit, Michael Xuereb, and Edwina Licari.