Spread financial intelligence
We registered with the offshore crypto investment scheme Invictus Capital some time ago to track its activities. Invictus Asset Management Limited in the British Virgin Islands (BVI), authorized by the BVI Financial Services Commission, operates the scheme. The website also informs that Invictus Capital Financial Technologies SPC in the Cayman Islands has applied for a Virtual Asset Services Provider license at CIMA. Invictus Capital offers investments in various crypto funds, such as the CRYPTO10 Hedged (C10) smart index fund. The scheme is open to retail investors in the UK, Europe, Australia, and Asia.
Key data
What we know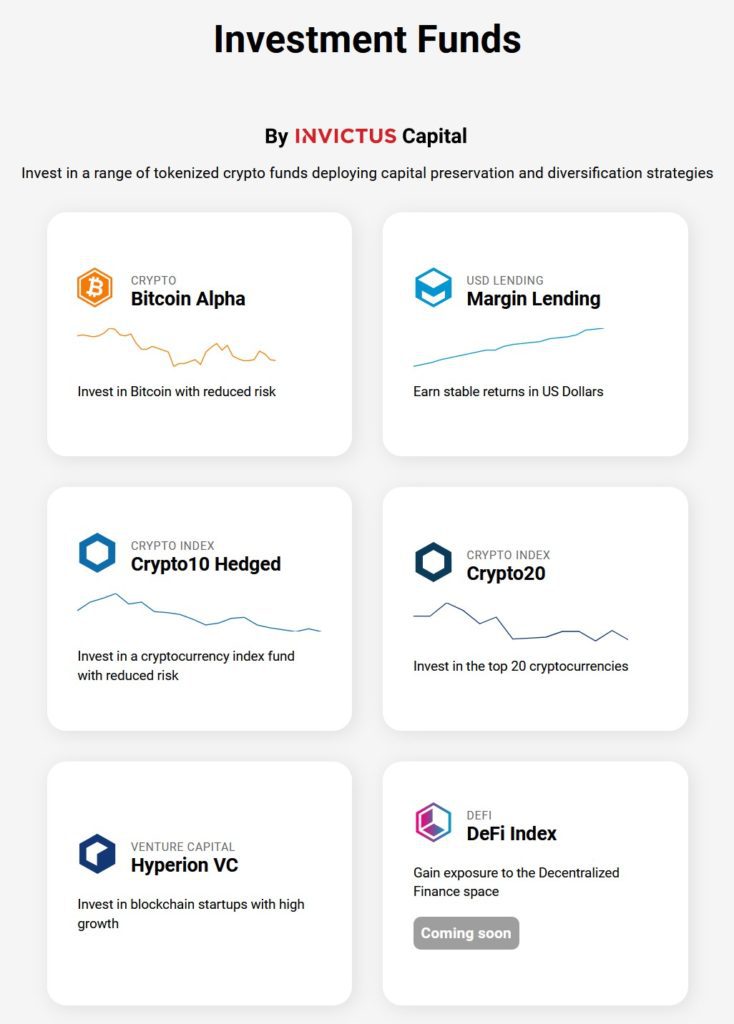 Invictus Capital is a South African venture offering its crypto investment products through offshore vehicles around the world except for the US. South Africans Daniel Schwartzkopff, Matthew Finlayson, and Bernard Myburgh founded the venture in 2017. The crypto investment scheme is headquartered in Cape Town, South Africa. In addition, they also have offices in the Cayman Islands, according to LinkedIn. In total, 79 people are connected to Invictus Capital on LinkedIn. Recently, the company announced the opening of its offices in Zurich headed by Haydn Hammond.
According to Invictus Capital, the scheme has more than 20,000 investors and $200 Assets Under Management (AUM). Their investment funds returned 228.98% on average last year, they claim.
Clients can currently invest in five tokenized crypto funds with different focuses and risk profiles, as well as a crypto lending facility (see screenshot left). Deposits can be made with credit and debit cards and bank transfers via Moonpay. Alternatively, clients can deposit cryptocurrencies, including USDT TUSD, and BUSD stablecoins. To buy TUSD and other stablecoins or TrueCurrencies, Invictus Capital recommends TrustToken (www.trusttoken.com).
Invictus Capital offers its clients an Over-The-Counter (OTC) Desk to trade, swap, redeem or invest in crypto assets. Via the OTC Desk, investors can lock in token prices to mitigate any price risk. The OTC Desk is available on WhatsApp (+27 82 286 9317). The minimum exchange or 'token swap' amount for the OTC Desk is $5,000.
Invictus Capital is betting its business model heavily on social media. The Facebook page has around 11k people following it, while on Instagram, it has just under 10k.
The KYC/AML process is neat. Deposits are not possible before completing the onboarding procedure with verification of ID and address. The offshore brokers of some CySEC and FCA-regulated investment firms could take a cue from this.
Preliminary conclusion
Invictus Capital seems to be a reputable crypto investment scheme aimed primarily at Millennials and GenZ. However, in our opinion, the offering is subject to regulation in Europe. The offshore licenses in BVI and Cayman Islands do not automatically authorize them to offer their services to the UK or Europe.
Clients of offshore brokers are generally not entitled to investor compensation schemes or the support of financial ombudsman institutions. Investing in crypto is a super-high risk in itself. The risk increases significantly again with an unregulated or offshore regulated broker. You should be aware of these risks and act very carefully.
Request 4 Information
We would like to know more about Invictus Capital, its operators, and partners. If you have any information, please share it with us through our whistleblower system, Whistle42.