Spread financial intelligence
FinTelegram has been following the crypto investment scheme scene for months and has discovered an extensive network. The UK Financial Conduct Authority (FCA) has issued a warning against EliteFXOptionTrade (www.elitefxoptiontrade.com). Although the name of the scam suggests a broker, it's a crypto-based investment scheme promising daily returns of up to 90%. Of course, this is bullshit. This brand is just one of numerous others of the super-aggressive Lunafunds crypto scheme.
Key data
Scheme
LunaFunds et al
Scam activity
a fraudulent crypto investment scheme
Scam brands
Coinshare, LunaFunds, Coinafirm,
ExpertFXCoinMining, OrangePillTrade,
Zigstrade, GoldenValueBTC,
MaxCoinTrade, TradeLineGlobal,
NovoTradeInvests, CryptoForex345,
MegaMiner, ROI-Trade,
CoinexGlobal, Crypto Union,
TushLegalTrade, TradeCryptMiner,
DigitalForexMining, ForexBit,
RegentCapitals, GA Forex
and more
Related legal entities
EliteFXOptiontrade Ltd (UK)
Tushlegaltrade Ltd (UK)
Expertfxcoinmining Ltd (UK)
Coinfirm Limited (UK)
Event Optimum Limited (UK)
FXbit Trading Limited (UK)
Fintechinvest Ltd (UK)
Al Crypto Capital Ltd (UK)
Identified BTC wallet
14Ex47X4ywZzSNHvUpPfUVNBXLE1V7LRCk
Warnings
FCA, CNMV
Scam Narrative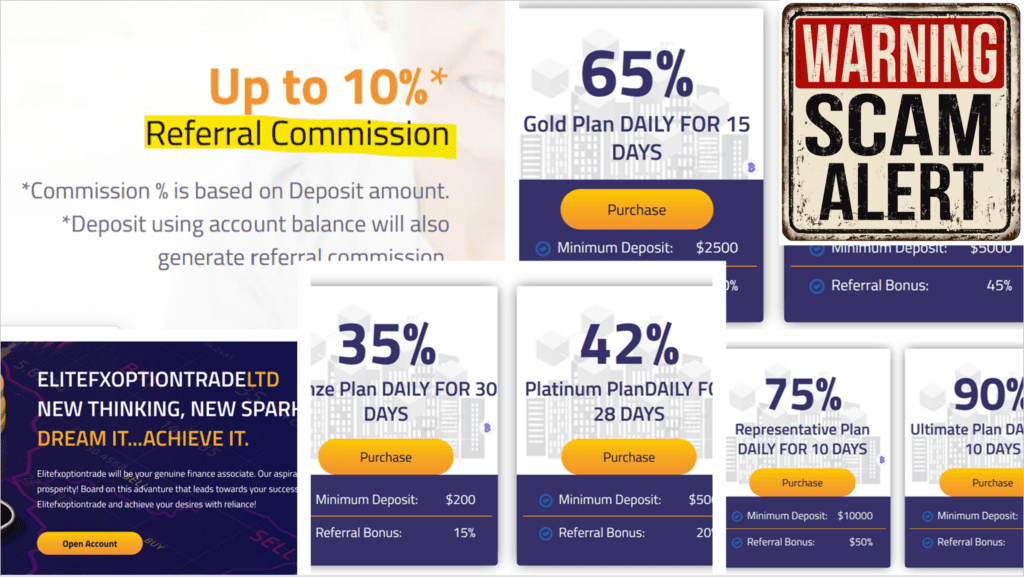 The people behind EliteFXOptionTrade operate a vast network of crypto investment scams whose websites look almost identical. On each of the websites we have identified, it is stated that the founder would be a certain Scott Greenwood, who founded a company in the UK. Some of these UK companies appear to have been established solely for the purposes of these schemes.
Some of the websites may have already disappeared. We are very sure that we have discovered only the tip of the iceberg at the moment, and that this network may operate dozens of other brands. This is how these attackers work.
It seems that the operators are Americans and Asians. US citizens are registered as directors in some UK companies listed as operators. The UK FCA has already issued warnings against some of the investment schemes. Most recently against EliteFXOptionTrade and ExpertFXCoinMining.
The websites of these investment scams are rather poorly made and should scare off potential victims. Nevertheless, new victims keep paying, as we can see in a discovered wallet. These scams are based on referral systems; they credit up to 10% commission for deposits of new victims. These referral systems are the fuel of these schemes.
Share information
If you have any information about the LunaFunds network and its operators, please share it with us through our whistleblower system, Whistle42.