Spread financial intelligence
It's not easy to be a Russian oligarch at this time. According to a New York Times report, some Russian oligarchs have used Concord Management LLC, a financial advisory company in Tarrytown, New York, to secretly invest money in large US hedge funds and private equity firms. Allegedly, the bulk of the funds belonged to Roman Abramovich, a close ally of Russian President Vladimir Putin. Concord and its founder, Michael Matlin, said it oversaw between $4 billion and $8 billion.
Wendy Siegelman exposed that Concord Management founder Matlin is a director of The Regeneration Group Limited in the UK, with several links to Abramovich. Regeneration Group shareholder Andrey Osipov used to work for Roman Abramovich's Millhouse. He also worked for Russian Oligarchs Mikhail Fridman and Viktor Vekselberg.
Michael Matlin has been a supervisory board member in the Austrian real estate company S IMMO AG until Nov 2017. Roman Abramovich was an 11% owner of the public-listed S IMMO AG from at least 2013 until 2017. The stake was owned by BVI Tri-Star Capital Ventures Limited, whose ultimate beneficiary is Roman Abramovich. In 2017 he sold the shares to RPR Group (www.rpr-group.at) of the Austrian investor Ronny Pecik, who, according to a CIA report available to FinTelegram, has close connections to Ukraine oligarchs.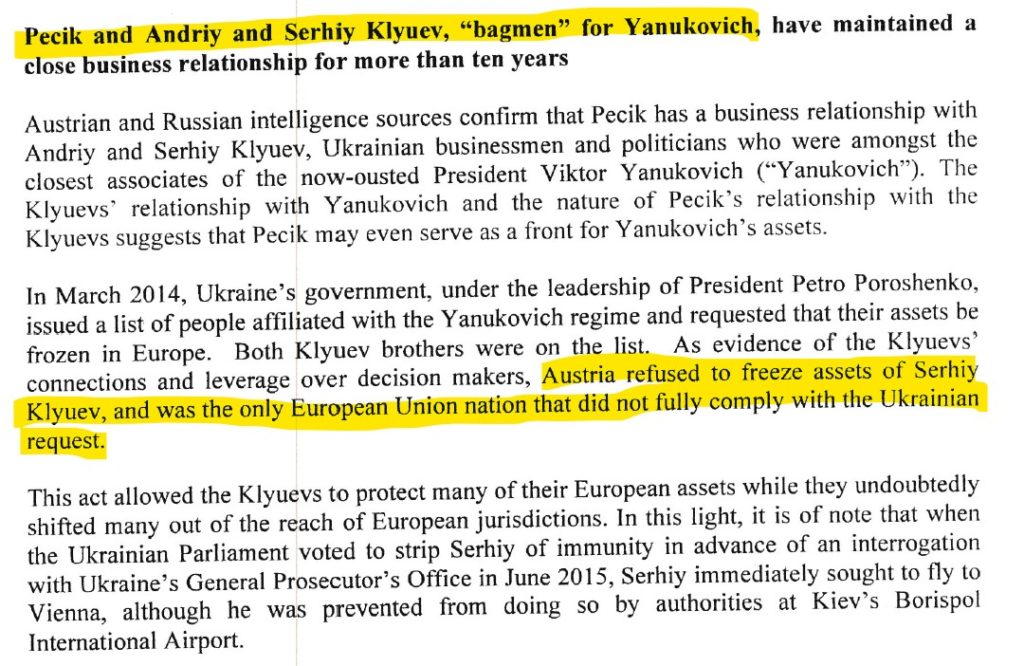 The CIA report claims that Ronny Pecik had a commercial relationship with Andriy Klyuev and Serhiy Klyuev, the front men (bagmen) for the ousted Ukrainian President Viktor Yanukovich. The Klyuev brothers have been on the 2015 EU sanctions lists of the US and the EU. The CIA report notes that Pecik derives power and influence from a reciprocal relationship with Russian and Ukrainian oligarchs who have significant assets and investments in Austria. Austria was the place for Ukrainian oligarchs to launder their stolen assets protected by the Austrian political establishment. The CIA report pointed out that Austria was the one EU member state that refused to freeze the assets of Serhiy Klyuev as requested by the new Ukraine government in 2014
It should be remembered at this point that the Ukrainian oligarchs under Yanukovich looted Ukraine with the support of politicians, lawyers, and investment experts in the US and Europe. We refer here again to the book MoneyLand by investigative journalist Oliver Bullough (report here).
Hunter Biden, the son of US President Joe Biden, served on the board of the Ukrainian oil and gas company Burisma Holdings from 2014 to 2019. Burisma Holdings is one of the biggest private oil and gas companies in Ukraine. It is registered in Limassol, Cyprus, but based in Kyiv, Ukraine. Hunter Biden resigned from the company in April 2019, while his father was running for president.
While Russian oligarchs make headlines for their superyachts and luxury homes, their bigger investments are out of public view, thanks to a largely invisible network of financial advisory firms like Concord Management in the US or offshore entities like Tri-Star Capital Ventures in BVI.