Spread financial intelligence
As reported already, Vantage Group operates various brands and domains through legal entities in different regulatory regimes. The offshore entities are Vantage Global Limited, regulated by the VFSC in Vanuatu, which operates the Moneta Markets and Vantage brands. Vantage International Group Limited, regulated in the Cayman Islands by CIMA, operates the offshore mutation of VT Markets. Both VT Markets and Moneta Markets are subject to warnings from European regulators. They solicit consumers in the EU without authorization and without proper onboarding.
Vantage Group Key data
Brands
Vantage FX, VantageFX, Vantage
Moneta Markets
Domain
www.monetamarkets.com
www.vtmarkets.com
www.vtmarkets.com.au
www.vantagefx.co.uk
www.vantagefx.com.au
www.vantagefx.com, www.vantagemarkets.com
Legal entities
Vantage Global Prime LLP, UK, regulated by FCA
Vantage Global Prime Pty Ltd, Australia, regulated by ASIC
VT Markets Pty Ltd, acting IB to Vantage Global Prime Pty Ltd
Vantage Global Limited, Vanuatu, regulated by VFSC
Vantage International Group Ltd, Caymen Islands, regulated by CIMA
Jurisdictions
UK, Australia, Vanuatu, Caymen Islands
Platform
PandaTS (until recently)
Payment processors
Praxis Cashier, ZotaPay (cc), Finrax (crypto), BridgerPay, PerfectMoney
Related individuals
David Bily, Moneta Markets
Warnings
Consob, CNMV
Updated narrative
We recently did a detailed review on Moneta Markets, which you can read here. The offshore broker attracts clients in the EU and UK and offers leverage of up to 1:500. In essence, Moneta Markets and VT Markets are identical. Recently, the two brokers should no longer work with PandaTS, at least they have changed their websites.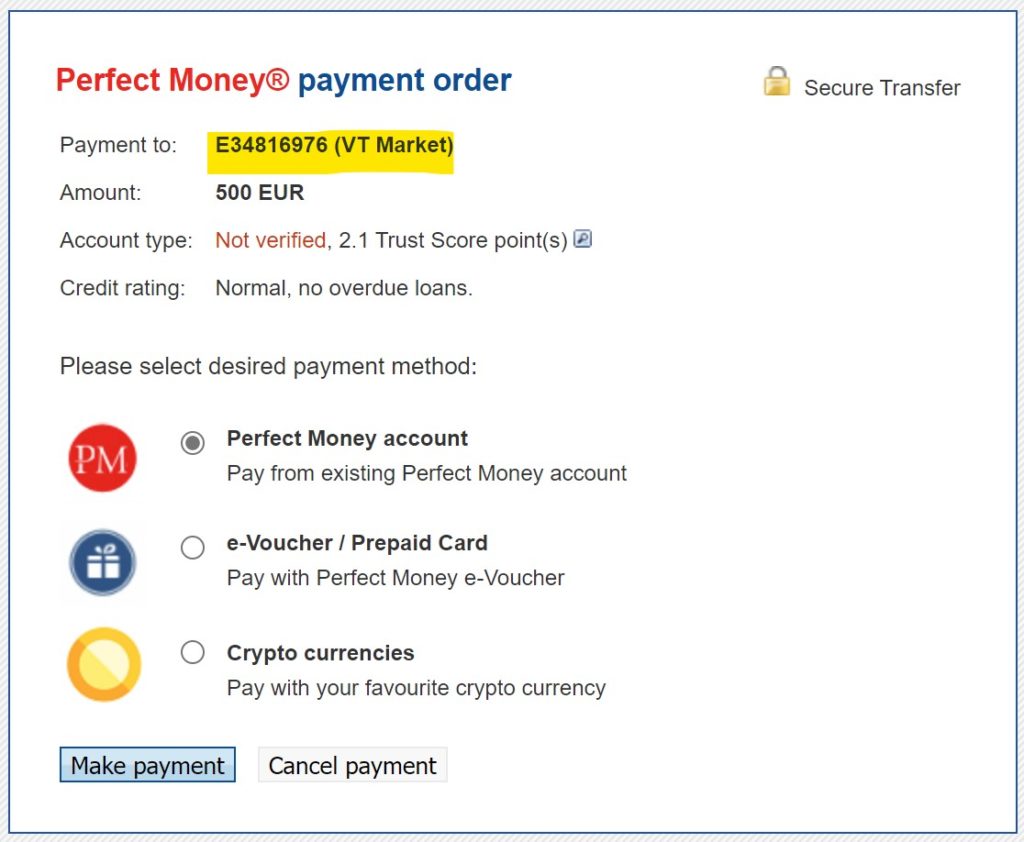 Read our Moneta Markets review here!
It is interesting to note that VT Markets now offers Russian Perfect Money as a payment option, which is actually only used by the dark side of the web. Many scam brokers use Perfect Money as their payment facilitator.
We recommend all consumers not to work with VT Markets or Moneta Markets. While they may not be scams, they operate without authorization from the relevant regulators. The deposited money is not insured and there is no Investor Protection Fund. Likewise, there is no way to call a Financial Ombudsman in case of problems. Stay away and do not increase your risk again. With Forex, CFDs and Cryptos you are active in high risk anyway.
Share information
If you have any information about Moneta Markets, VT Markets, or the Vantage Group please share it with us through our whistleblower system, Whistle42.