Spread financial intelligence
FinTelegram has reported several times on Moneta Markets, an offshore broker regulated by the Vanuatu Financial Services Commission (VFSC). The broker is operated by Vantage Global Limited, part of the Vantage Group. Currently, Moneta Markets is attacking German-speaking consumers and asking them to make deposits. Contrary to Moneta Markets' statements, the broker solicits clients in Germany and the EU without proper authorization. The Italian Consob has already issued an investor warning.
Key data
Brands
Vantage FX, VantageFX, Vantage
Moneta Markets
Domain
www.monetamarkets.com
Legal entities
Vantage Global Prime LLP, UK, regulated by FCA
Vantage Global Prime Pty Ltd, Australia, regulated by ASIC
Vantage Global Limited, Vanuatu, regulated by VFSC
Vantage International Group Ltd, Caymen Islands, regulated by CIMA
Jurisdictions
UK, Australia, Vanuatu, Caymen Islands
Platform
PandaTS
Payment processors
Praxis Cashier, ZotaPay (cc), Finrax (crypto)
Related individuals
David Bily, Moneta Markets
Warnings
Consob
The narrative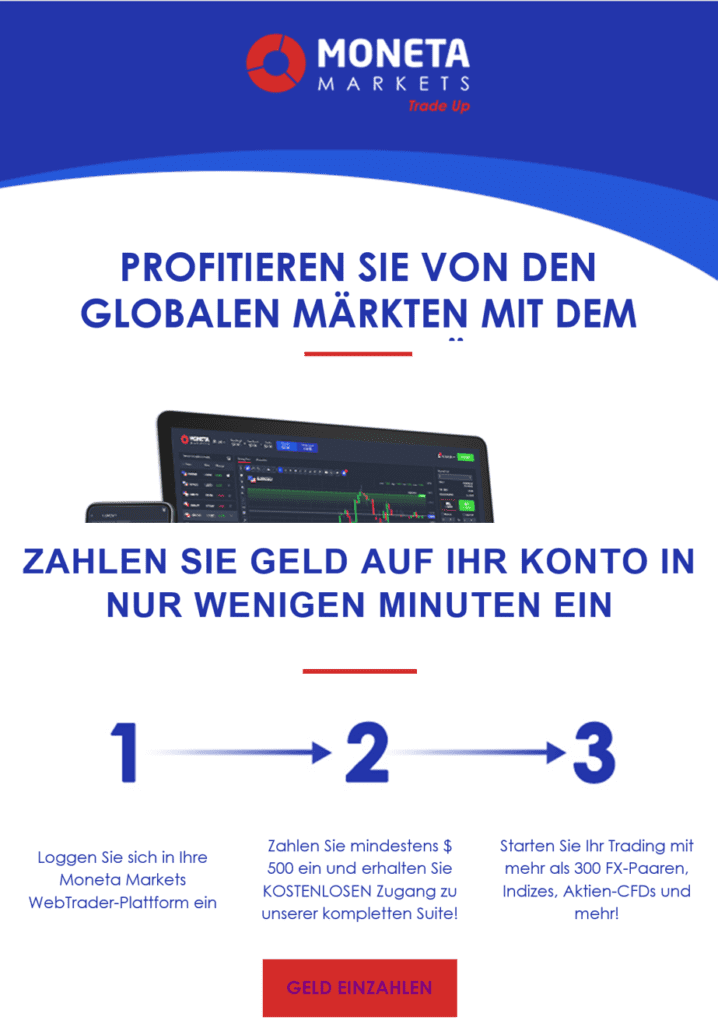 Moneta Markets is a white-label broker on the Israeli PandaTS platform of Maor Lahav and Shmuel Gutman. In our understanding, Moneta Markets is an offshore broker of Vantage Group which has licensed units in the UK and Australia. However, Moneta Markets is not authorized to offer financial services in Europe, the United Kingdom, or other regulatory regimes. In addition, Moneta Markets' offerings and procedures violate regulatory guidelines in the United Kingdom and the EU.
According to its founder David Bily (LinkedIn), Moneta Markets operates as an independent broker within the Vantage Group. A license from an EU regulator would not be required, he argued, as Moneta Markets would not allow the onboarding of consumers if they came from regulatory regimes that require a permit. Unfortunately, it turns out that David Bily does not walk the talk.
I also want to reassure you that we do not market ourselves or advertise our services in Europe.

David Bily in a statement to FinTelegram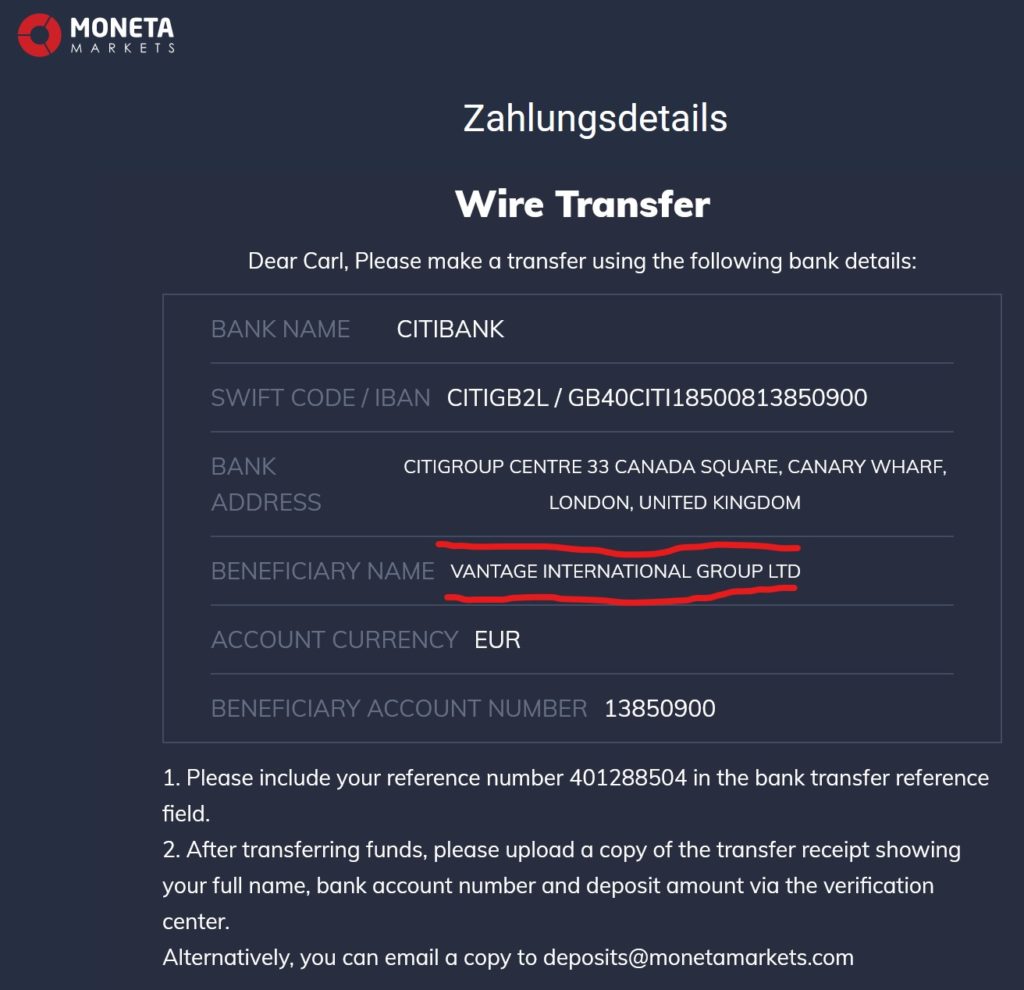 The truth, however, is that Moneta Markets solicits clients and their funds in Germany and other EU member states. The offshore broker has no permission or authorization to do so; it is an illegally acting broker. In our reviews, we had no problem registering and onboarding with Moneta Markets and would have been able to make deposits using credit and debit cards or via cryptocurrencies without a proper KYC/AML.
Moreover, Moneta Markets offers EU consumers leverage of up to 500:1, which is a multiple of what is allowed in ESMA's regulatory regime. Moneta Markets, therefore (a) has no permission to operate in the EU and (b) furthermore violates regulatory requirements with its offer.
The website states that Vantage Global Ltd in Vanuatu would be the operator. However, Moneta Markets asks them to make bank transfers to the bank account of Vantage International Group Ltd, registered in the Cayman Islands, at Citibank in London.
The Italian regulator issued an investor warning combined with a cease and desist order on December 16, 2021.
Share information
If you have any information about Moneta Markets or the Vantage Group please share it with us through our whistleblower system, Whistle42.