Spread financial intelligence
Malta is an offshore place in the EU with weak regulators. We know that! Consequently, it was was grey-listed by the Financial Action Task Force (FATF) in June 2021. Since then 100 licensed firms surrendered their Malta license. A monthly average of 12 firms, SICAVs, and funds opted to return their license to the Malta Financial Services Authority (MFSA) and terminate their operations in Malta. This information is public on the Authority's website, although Malta Finance Minister Clyde Caruana's refused to provide such information to Parliament.
Last October, an EY Malta survey revealed that Malta's attractiveness for business reached an all-time low. The exodus of financial firms and the falling popularity of the location due to greylisting will have long-term structural effects on Malta's economy and prosperity. The MFSA is largely responsible for doomed situation. As a regulator, the authority has failed to take measures to prevent money laundering and the resulting greylisting. The managers of the MFSA are primarily responsible for this.
Despite this exodus of financial services firms and funds from Malta in the past months, Bank of Valletta's Chairman Gordon Cordina said Malta is yet to feel the brunt of greylisting in a recent interview. Besides, Cordina is also a shareholder and director of E-cubed Consultants, which has received direct orders in the tunes of thousands of euros every month from the Malta Gaming Authority (MGA).
Malta will be going to the polls on 26th March 2022, with the Government sending out a €100 cheque to every Maltese voter a few days before elections. This bid has been highly criticized as a catch-voting exercise.
Growing staff and losses
Greylisting came at a time when the MFSA's workforce was exploding. In 2013, the Authority employed 189 employees, with 140 in managerial positions. In 2020, this doubled to 382, with 340 individuals holding a management position and 42 working in administration.
The audited financial statements of MFSA for the year ending 2020 show that the Government had to fork out more than 46 million euros to make good for the losses produced by the Authority for years 2019 and 2020.
New CEO but old habits
MFSA's new CEO Joseph Gavin walked out of an interview with Times of Malta over objections to the line of questioning. In July, Gavin, who was appointed to the financial regulator on a package reportedly worth €160,000, angrily terminated an interview with the Times of Malta. However, the MFSA itself has initiated this interview.
Former Finance Minister Edward Scicluna, who today holds the position of Central Bank Governor with an annual salary of Eur 138,000, is a member of the Board of Governors of MFSA.
Christopher Buttigieg served as interim CEO after Joseph Cuschieri's resignation. He spearheaded the failed "blockchain island" campaign but still serves on the Authority's executive committee. Minister Clyde Caruana admitted that the blockchain island was nothing but a buzzword. Some €3 million from public funds were spent on marketing Malta's blockchain flop.
The friendship regulators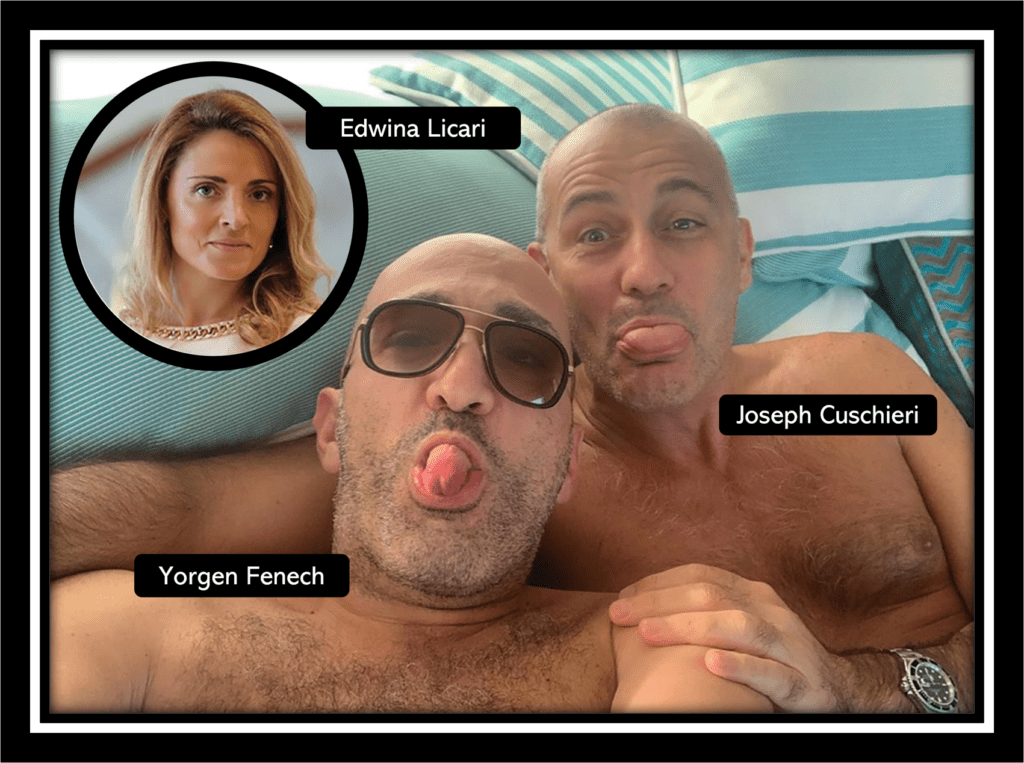 Before becoming the CEO of MFSA in 2018, Joseph Cuschieri headed the Malta Gaming Authority (MGA), where Edwina Licari was the legal counsel. The Maltese businessman Yorgen Fenech was the CEO of Tumas Gaming, one of the largest MGA-regulated casino operators. While working as CEO and legal counsel for the MGA, Cuschieri and Licari supported Fenech in regulatory challenges. They drafted a lobbying letter for the casino license renewal, the Times of Malta exposed.
Cuschieri apparently also enjoyed being a guest on Fenech's yacht, as various pictures circulating on the web show (see left).
Licari followed Cuschieri and became the MFSA General Counsel. Both became known to the international audience with their to Las Vegas trip paid for by Yorgen Fenech. At the time of the trip Edwina Licari still worked at the MGA. Old acquaintances and some conflict of interest. When this trip was exposed, Licari resigned as a member of the board of governors of the Financial Intelligence Analysis Unit (FIAU) but remained as General Counsal at MFSA with an annual salary of €100,000.
In November 2019 Yorgen Fenech was arrested as a suspect in the murder of the investigative-journalist Daphne Caruana Galizia. A key figure in the 2019 Malta political crisis, Fenech was suspected of bribing members of the Maltese government. In November 2020, Joseph Cuschieri resigned as MFSA CEO. The great party was over!
Taxpayer-sponsored traveling
During his tenure as CEO, Joseph Cuschieri spent a small fortune on business trips. In vain as the greylisting clearly showed. An answer to a Parliamentary question revealed that some €500,000 in taxpayers' monies were spent on 38 business trips:
four nights in New York in 2015 cost taxpayers €17,868,
while a week in Peru in the same year cost €26,959.
five nights in London the following year cost €24,107, and
a trip to the Philippines and Australia in the same year on two separate trips produced costs of almost €20,000.
Following Malta's greylisting, none of the MFSA's Executive Committee members or Board of Governors resigned.
Strong regulators can be a problem for regulated firms. Weak regulators like the MFSA, on the other hand, can pose a lethal threat to a country's economy, as seen in Malta.